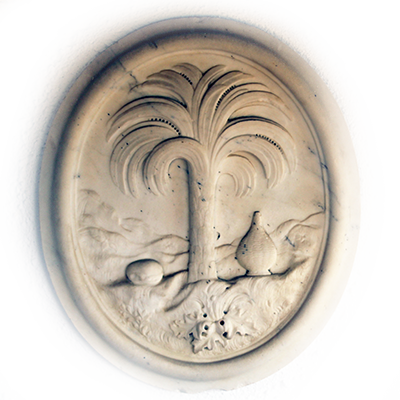 This lovely holiday house in Xabia (Spain) has a rich family history. Embedded in one of the walls of Villa Palmera is a  very old marble medallion with a palmtree. It's a family heirloom. The former owners of Villa Palmera, Hans and Edith Waller, took this medallion with them all the way from Delft, the Netherlands, so they felt close to their family roots.
Hans and Edith moved from the Carribean to Europe. They chose Javea because of the lovely climate. They researched several different locations all  around Javea and decided this was the perfect spot for them.
They had a lovely time here at Villa Palmera with their children and grandchildren. Everyone enjoyed to stay with (opa) Hans and (oma) Edith.
Their children continue this tradition of warm hospitality.
When you would like to rent Villa Palmera for a holiday you can contact us by sending a mail via the form. For urgent matters please call us. Wanneer u Villa Palmera zou willen huren voor een vakantie dan kunt u uw gegevens aan ons zenden via het contactformulier. Ook is het mogelijk voor dringende vragen ons te bellen. Stuur ons een bericht en dan nemen wij contact met u op.
Address: Xabia, Spain
Phone: +31(0)652360131 / +31(0)648650604
Email: info@villa-palmera.nl